East over Apse- From North to South (Left to Right below)
1) TIMOTHEUS. DWIGHT/ EXIMIIS
.

INGENII

~

FACULTATIBUS

/

ORNATUS

.

AUCTOR

/

ITATE

.

SINGULAR11

ET.

APUD

.

AEQUA

/ LES.

SUOS

.

OMNES

/ ET.APUD.

IuVENESI

QUOS. AD. OPTIM

A/ VITAE.

INSTITUTAI

RATIONES

~. LAB/ ORE.

ASSIDUO

.

SED

/

FACILI

.

FORMABAT

/

ELOQUENTISSIMUS

/

RERUM

.

SACRARUM

/

INTERPRES

.

OMNIS

/

DOCTRINAE

. LIB/

ERALIS

.

FAuTORI

COLLEGIO

.

PUE

/

FECTUS

. REBUS/

ACADEMICIS

/

SAPIENTISSIME

 

/

CONSULUIT

/AB - CI~I~

CCXCV

/ AD

CII

I3CCXVII

ANN

Translation:Timothy Dwight, distinguished by uncommon powers of mind and unequaled influence both among all his peers and among the young men whom he trained with constant but easy effort to the best principles and ways of life, a most eloquent interpreter of sacred things, a promoter of all liberal learning, as President of the College, devoted llimself in the wisest way to its affairs from the year 1795 to 1717.
2) THOMAS. CLAP/

I'W'RA

.

AMPLIORAl

ATQUE

.

MELIORA

/

PRUDENTI

. OPERA/

SUA

.

COMPARCIVIT

/

COLLEGIO

/

CUIUS

.

PRAESES

.

FUIT

/ - AB

CI3

13

CCXXXIX

/ AD CD

I3

CCLXVI

ANN
Translation: Thomas Clap, by his wise agency, established fuller and better laws for the college of which he was President from 1739 [sic] to 1766 (B.A. Harvard, 1722, Rector 1740-1745, President 1745-1766) 
3) Above the inscription is to be found the Yale Seal, with the Latin inscription surrounding it:
LUX/ ET VERI/ TAS HUIC. COLLEGIO/ B.E. C13 I~CC/ CONDITO.ATQ/ AB. ANNO. m/ CI3 I>CCXVIII/ IN. MEMORIAM/ MUNIFICENTIAE/ ELIHU. YALE/ YALENSII APPELLATOI ABRAHAWS. PIERSON/ AB ANN CI] I lCCI/ AD CI3 13 CCVII/ SAMUEL. ANDREW/ - AB CI) I> CCVII/ ANN AD CI) I)CCXM/ TIMOTHEUS. CUTLER/ cI) 1) CCXIX/ ANN AD CDI>CCXXII / ELISAEUS. WILLIAMS / AB ANN CI3 13, CCMV/ AD CI3 1') CCXXXIXI NAPHTALI. DAGGETTI AB CI) I3 CCLXVII AD CI2 12 CCLXXVII/ pRAESEDERUNT/ ANN PRIMITIAS. DOC/ TRINAE. OPTIMXE/ SAPIENTISQUE/ PIETATIS/ STUDIOSE . COLLIGENTES
Translation: Light and Truth. Over this college, founded in the year of our Lord 1700 and from the year of our Lord 1718 called Yale in memory of the generosity of Elihu Yale, Abraham Pierson, from the year 1701 to 1707, Samuel Andrew, from the year 1707 to 1719, Timothy Cutler, from the year 1719 to 1722, Elisha Williams, from the year 1725 to 1739, Naphtali Daggett, from the year 1766 to 1777, presided, gathering carefully the first fruits of the best learning and of a judicious piety. 
4) EZRA. STILES/ ERUDITIONIS/ CUIUSVIS. GEN/ ERIS. SEMPER/ STUDIOSISSIMUS/ FAMA. SUA. NOMEN/ ILLuSTRAVIT/ COLLEGIL/ CUI. FELICITER/ PRAEFUIT~ AB CI) I>CCLXXVII/ AD C13 13 CCXCV
Translation: Ezra Stiles, a t a l l times most devoted to learning of every kind, by his fame made illustrious the name of the college over which he favorably presided from the year 1777 to 1795. 
5) JEREMIAS. DAY/ HOMO. SANCTUS/ VIR. MIRIZBILI. QUA/ DAF. ANIMI. VITAE/ QUE. HONESTATE / PHILOSOPHIAE~ RERUM. Q SACRARUM/ STUDIOSUS. DIVES / CONSILII. SAPIENTIS/ SED. ALIEN. CON/ SILII. MINIME. NEG/LIGENS. RES. SEC/ UNDAS. COLLEGIII IUSTA. DLIGENTIAl ADMINISTRAVIT/ ANN CI3 13CCCXV11/ AD CI) 13 CCCXLVI~ EO. PRAESIDE/ ORDO. THEOLOGO~ RUM. ATQUE. ORDO/ IURIS. SCIENTIUM~ HIC. FAUSTE/ INSTITUTI. SUNT
Translation: Jeremiah Day, a holy man, and of a certain wonderful integrity of mind and life, devoted to philosophy and things sacred, rich in wise counsel, but by no means negligent of the counsel of others, administered with a just scrupulousness the good fortune of the college from the year 1817 to 1846. Under his presidency the Faculty of Theology and the Faculty of Law were here favorably established. 
1) 

          2)  

       3)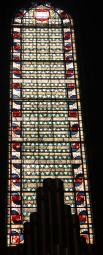 4)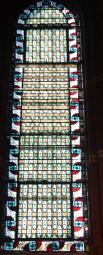 5)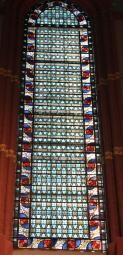 ---
North Transept
1)QUI/ TRANS/ TULIT/ SUSTII NET 
An adaptation of the Connecticut State Seal. Translation: He who transplanteth sustaineth.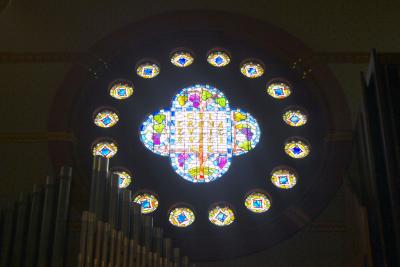 ---
North Upper Tier ( From East to West): 
1) BENIAMIN. SILLIMANI CHEM. ET. MIN, ET. GEOL. PROF / C13 I3 CCCII. CIS I] CCCLXV/ THE. WORKS. OF. THE. LORD/ ARE. GREAT. SOUGHT. OUT. OF/ ALL. THEM. THAT. HAVE/ PlXASURE. THEREIN [Psalm 111, 21
Translation: Benjamin Silliman, Professor of Chemistry, Minerology, and Geology, 1802- 186 4.
2)CHAUNCAEUS. ALLEN/GOODRICH/ RHET. ET. LITT. ANGL. PROF' / CI) 1) CCCXVII. CI) I) CCCXXXIXI CURAE. PASTORALIS/ CI) CCCXXXIX. CI) I) CCCLX
Translation: Chauncey Allen Goodrich, Professor of Rhetoric and English Literature, 1817- 1839; of the Pastoral Charge, 1839-1860. 
3) NATIlANAELl GUILIELMUS/ TAYLOR/ THEOLOG. DOGMATICAE PROF / CI) I) CCCXXII. CI) I) CCCLVIII
Translation: Nathaniel William Taylor, Professor of Dogmatic Theology, 1822-1858. 
4) GUELIELMUS/ AUGUSTUS/ LARNED/ RHET. ET. LIT. ANGL. PROF / CICI CCCXXXIX. CI) I) CCCLXII/ AD. PERCIPIENDAM/ COLENDAM~ VIRTUTEMI LITTERAE . ADIVVANT
Translation: William Augustus Larned, Professor of Rhetoric and English Literature, 1839-1862. Literature helps to know and cultivate virtue. (B.A. Yale, 1826) 
5) M MEMORY OF/ SAMUEL WELLS WILLIAMS L. L. D. / MDCCCXII-MDCCCLXXXIV/ MISSIONARY, SCHOLAR, DIPLOMATIST / PROFESSOR OF THE CHINESE LANGUAGE / IN YALE COLLEGE 
Above this are two columns of written, classical Chinese characters. The left-hand column contains three characters, and is incomplete. The right-hand column contains four characters and may be translated "Industry therefore gets results " or "Success through Diligence." 
1)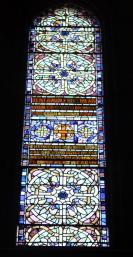 2)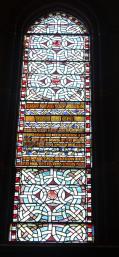 3)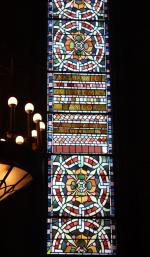 4)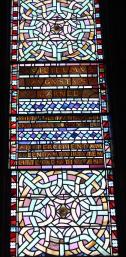 5)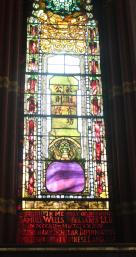 ---
North-Lower Tier ( East to West) 
1) IACOBS. HADLEY/ LING. ET. LIT. GRAECARUM. PROF/ CI) I) CCCLXVIII. CI) I) CCCLXXII
Translation: James Hadley, Professor of the Greek Language and Literature, 1848-1872
2) THOMAS ANTONIUS TH.ACHER/ LINGUAE ET LITTERARUM PROFESSOR/ AB ANN0 MDCCCXLII AD ANNUM MDCCCLXXXVI/ 01 ET/ PRAESIDIUMI ET/ DULCE/ DECUS
Translation: Thomas Anthony Thacher, Professor of the Latin Language and Literature from the year 1842 to the year 1886. 0 protector and sweet glory. [Horace: - Odes. I. 1.21 
3)EDVARDVS. CLAUDIUS~ HERRICK/ BIBLIOTHECARIUS/ CI3 13CCCXLIII-CIJ I3 CCCLVIII/ THESAURARIUS/ CI3 1) CCCLIICICI3 CCCLXII/ AD. AGENDUM. SEMPER. ALIQUID~ DIGNUNI. VIRO. NATUSl QUIS. DESIDERIO. SIT. PuDOR/ AUT. MODUS, TAM. CARI. CAPITIS
Translation: Edward Claudius Harriclr, Librarian 1843 - 1858, Treasurer 1852- 1862. Born to be doing always something worthy of a man. What shame or measure should there be in grief for one so dear? [Quis… capitis, Horace: Odes .I. 24.1-21 (M.A. Hon. 1838) 
1)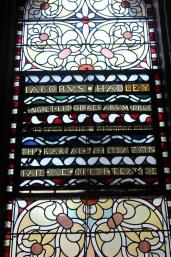 2)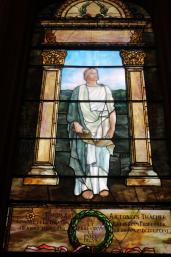 3) 
---
West over Balcony ( From South to North) 
1) BENIAMINIS. WOOLSEYI B.A. A. D. CI313CCIXI BENIAMINIS. WOOLSEYI B. A. A. D. CI~I~CCXLIV/ GUILIELMI. CECIL. WOOLSEYl B. A. A. D. CI3 I> CCCXIII/ IOHANNIS. MUMFORD. WOOLSEYI B. A. A. D. CI>I>CCCXIII/ THEODORI. DWIGHT. wOOLSEYI B. A. A. D. ~1312 CCCXXI GUILIELMI. WALTON. WOOLSEY/ M. D. A. D. CIJ I3 CCCLIII/ HUIUS. COLLEGII. ALUMNORUM/ EX. FAMILIA. SUA/ HIS. LITTERIS. SE. PRAEBET. MEMOREMI T. S. W. / ALUMNUS. IPSE. PIETATE. MOTUS
Translation: T.S.W. [Theodore Salisbury Woolsey, B.A. 1872, LL.B. 1876, M.A. (Hon,) 1887, LL.D. (Brown Univ.) 1903; Law Faculty 1877 - 191 11, himself an alumnus, inspired by affection, by this record shows himself mindful of Benjamin Woolsey, B.A. A. D. 1709, Benjamin Woolsey, B.A. A.D. 1744, William Cecil Woolsey, B.A. A.D. 1813, John Mumford Woolsey, B.A. A.D. 1813, Theodore Dwight Woolsey, B. A. A. D. 1820, William Walton Woolsey, M. D. A. D. 1853, alumni of this college from his own family. 
2) IN. HONOREM / THEODORI, DWIGHT. WOOLSEY / QUI/ DISCIPULUS . TUTOR/ PROFESSOR. PRAESESI PER. QUINQUAGINTA. ANNOS / IN. HOC. COLLEGIO~ VERAM. DOCTRINAM/ PROMOVEBAT
Translation: In honor of Theodore Dwight Woolsey, who as pupil, tutor, professor, president, for fifty years promoted true learning in this college. 
1)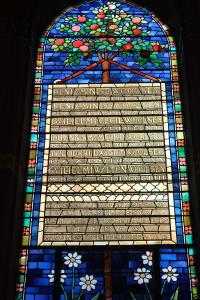 2)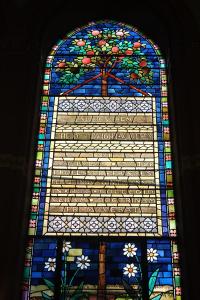 ---
South over Balcony 
1) Around seal at top of window: SIGIL .GEORGII BERKELEY EPISC CLONENSIS 17 35 
Translation: Seal of George Berkeley, Bishop of Cloyne, 1735. 
2) IN MEMORIAM/ GEORGII. BERKELEY/ EPISCOPI. CLONENSIS. 1 PHILO/ SOPHI. THEOLOGI. INSIGNIS/ HIC MONUMENTA POSUIT. ANIMI . SUI. LIBERALIS
In memory of George Berkeley, Bishop of Cloyne, eminent philosopher and theologian. He placed here monuments of his generous spirit.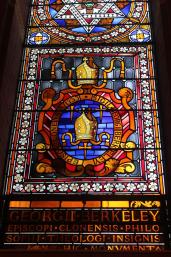 ---
East over Balcony 
1
) 
IONATHAN. EDWARDS/ SUMMI. IN. ECCLESIA. ORDINIS. VATES/ FUIT. RERUM. SACRARUM. PHILOSOPHUS/ QUI. SECULORUM. ADMIRATIONEM. MOVETI DEI. CULTOR. MYSTICE. AMANTISSIMUS/ HIC. STUDEBAT. DOCEBAT 
Translation: Jonathan Edwards, a prophet of the highest rank in the church, was a philosopher of sacred things, who stirred the admiration of the ages, a mystically most devoted worshiper of God. He studied and taught here.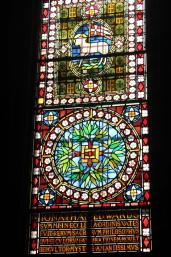 ---
South under Balcony 
1) Above the inscription are figures with the words DAVID. REX/ CARITAS/ FORTITUDOl PATIENTIAI VERITASI and the words . SURELY. HE. HATH. / BORNE. OUR. GRIEFS. / AND. CARRIED. OUR. / SORROWS. ISAIAH. 5 3 - 4 -tm. MEMORIAM. LORING. GUILIELMI. ANDREWS/ E. SENIORIBUS. HuIUS. ACADEMIAE. DISCIPULIS. / QUI. NATIS. DIE. XrM. AUG. AD. MDCCCLXI/ MORTUUS. EST. XX. OCT. AD. MDCCCLXXXII
Translation: KING DAVID. CHARITY. COURAGE. PATIENCE. TRUTH +In memory of Loring William Andrews, a senior of this school, who was born on the 26th day of August, A,D. 1861 and died on the 21st of October, 1882. 
2) ANTONIUS DUMOND. STANLEY/ MATHESEOS. PROFESSOR/ CI) I)CCCXXXVI. CI)I)CCCLIII/ DOCTUS. HOMO. ET. ERUDITUS/ CUI. VIVERE FUIT. COGITARE
Anthony Dumond Stanley, Professor of Mathematics, 1836-1853, a learned and accomplished man, to whom to live was to think. (B,A. 1830)
3) ELEAZARUSI TI-IOMPSON. FITCHI SACRAE. THEOLOG. PROF/ CI) I) CCCXVII. CICI) CCCLXXI
Translation: Eleazar Thompson Fitch, Professor of Sacred Theology, 1817-1871. We pray you in Christ's stead, be ye reconciled to God. [I1 Corinthians 5, 201 (B.A. 1810)
4) . JACOBUS. LUCE KINGSLEY/ HIST. ECCL. PROFESSOR/ CI)I) CCV. CI)I)CCCXVII/ LING. HEB ET. GRAEC. ET. LAT/ CI)I) CCV. CI)I)CCXXXI/ LINGUAE. ET. LIT. LAT/ CI)1)CCCXXXI. CI)I)CCCLII/. FONS. SPLENDIDIOR. VITRO
Translation: James Luce Kingsley, Professor of Ecclesiastical History, 1805- 18 17; of the Hebrew, Greek, and Latin Languages, 1805-1831; of the Latin Language and Literature, 1831-1852. 0 fountain clearer than crystal! [c. Horace: Odes 111.13.11 (B.A. 1799)
5) DENISON. OLMSTEDI MATH. PHIL. NAT. ASTRON. PROF/ CI)I) CCCXXV. CI)I)CCCLIX/ THE. HEAVENS. DECLARE! THE. GLORY. OF GOD
Translation: Denison Olrnsted, Professor of Mathematics, Natural Philosophy, and Astronomy, 1825- 1859. [The heavens…God, Psalm 19, 11 (B.A. 1813) Some of the inscriptions on the memorial windows are included in William L. Kingsley: "The Battell Chapel:' in Yale Colleg A Sketch Of - Its History, ed. William L. Kingsley, 2 vols., N.Y., 1879, pp. 287- 296 of vol. I.
1)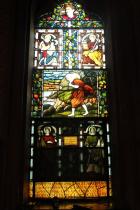 2)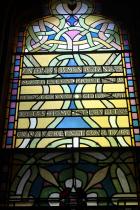 3)
  4)
  5)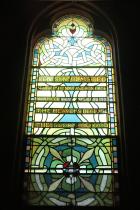 ---
Plaques and Dedications 
NORTH-between Thacher and Hadley windows; bronze:
1) TO EDWARD TOMPKl'NS MqLAUGHLIN 1893 PROFESSOR OF' RHETORIC AND BELLES/ LETTRES: WHO THROUGH NINE YEARS/ OF DEVOTED SERVICE INSPIRED IN/ HIS CLASSES AN ENDURING LOVE/ OF THE HIGHEST THINGS IN BOOKS/ AND MEN AND UNCONSCIOUSLY OF/ HIMSELF + BY HIS CLASSMATES OF 18831 THO' MUCH IS TAKEN MUCH ABIDES (B.A. 1883) 
NORTH TRANSEPT GALLERY-in wood of chest of the Great Organ, carved in gold:
2) + IN MEMORIAM + / .ELLEN. BATTELL. STOECKEL
(The transept organ, together with the choir organ in the apse, was dedicated at the eleven-o'clock service of worship on Sunday, October 14, 1951) 
EAST WALL-to the left of the pulpit:
3) Stone plaque Nathan Hale
Durable stone preserve the monumental record. Nathan Hale Esq. a/ Capt. in the army of the United/ States who was born June 6t_h 1755. / and receiv'd the first honors of Yale/ College Sept. 1773 resigned his life a/ sacrifice to his countrys liberty at/ New York Sept. 22: 1776 Etatis 222. / Epitaph at Coventry/ His last words were "I only regret/ that I have but one life to lose/ for my countrytr / Thus while fond virtue wished in vain to save/ Hale bright & generous found a hapless grave/ With genius living flame his bosom glowed/ And science lured 1 him to her sweet abode/ In Worth's fair path his feet adventured far/ The pride of Peace. the rising hope 2 of War/ In duty firm in danger 1 The original reads "charmld" instead of "lured" 2 The original reads "grace" instead of "hope1' calm as even–/ TO friends unchanging and sincere to Heaven/ How short his course. the prize how early won/ While weeping Friendship mourns her favorite gonet '/ TimothyDwight 1785 From Dwight's The Conquest of Canaan; A Poem, &Eleven Books, 1785, 1.75-841 Stone designed by Henry Charles Dean withMessrs. Cram andFerguson, Boston architects. Lettering by HermanMeister of NewHaven follows lettering onHale 's tombstone at South Coventry. Given by George Dudley Seymour (M.A. pon.] 1913). 
4)bronze plaque for flag: 
THIS FLAG WAS PRESENTED/ TO YALE COLLEGE/ BY THE FOLLOWING MEMBERS OF/ THE CLASS OF 1917/ RICHARD BENTLEYI FRANCIS REYNOLDS BLOSSOM/ STANLEY WILLIAMS BURKE/ STUART HOLMES CLEMENT/ HENRY EUGENE COE JR. / LYTTLETON BOWEN PURNELL GOULD/ SAMUEL WILLIAMS MEEK/ DUDLEY HERSEY MUDGE/ LAWRENCE NEWBOLD MURRAY/ KENNETH O'BRIEN/ ROBERT PAUL PFLIEGERI ROBERT GOODWYN RHETT JR. / DICKINSON WOODRUFF RICHARDS JR. / SAMUEL SLOAN WALKER/ MELZAR MERRICK WHITTLESEY (United States flag) 
EAST WALL-to the right of apse:
5) bronze plaque:
IN MEMORIAM JOSEPHI BATTELL QUI DIE XVX APR. A. D. MDCCCVII NATUS MORTUUS EST VILT JUL. A.D. MDCCCLxxIv. ———–em– / EUM ET REVERENTER COLUISSE DEUM ET ALIENIS UTILITATIBUSI PEMTUS STUDUISSE SEMPER SIT DOCUMENTO H'EC AEDES/ SACRA ..———- I NEQUE =US IN MEMORIA EST TENENDA DILECTA ILLIUS SORORI IRENE LARNED GUILIELMI AUGUSTI LARNED UXOR QUAE/ VITAM SUAM SUAVISSIMIS QUASI MORUM HARMONIIS ET/ FIDE PLENAM AD EXITUM PERDUXIT DIE V MAJI A. D. MDCCCLXXVJJ/ ANNOS NATA LXV. 
Translation: In memory of Joseph Battell, who was born on the 17th day of April, A.D. 1806, and died on the 8th of July, A.D. 1874. May this sacred building always be a proof that he reverently worshipped God and was wholly devoted to the service of others. Equally worthy of remembrance is his beloved sister, Irene Larned, the wife of William Augustus Larned, who closed a life full of faith and of the sweetest harmonies of character on the 5th day of May, A. D. 1877, at the age of sixty-five. 
6) bronze plaque:
THIS FLAG IS GIVEN/ IN MEMORY OF/ JAMES ROWLAND ANGELLl 1869- 1949 / FOURTEENTH PRESIDENT/ OF YALE UNIVERSITY/ 1921-1937 (Yale University flag) 
1)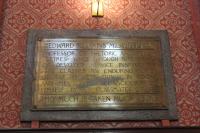 2)
  3) 

  4)

5)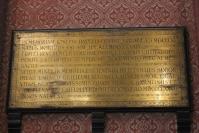 6)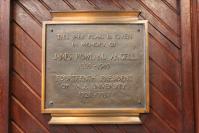 ---
THE MEMORIAL APSE- dedicated Sunday, October 5, 1947 
1) ALTAR
SEND. OUT. TRY. LIGHT. AND. THY. TRUTH + [Psalm 43.3 1 b) Front, bottom, beneath panels: -k IN MEMORIAM, CHARLES ALFRED PILLSBURY, CLASS OF 1939 + (The Altar is the gift of Mr. and Mrs. John S. Pillsbury of Minneapolis, Minnesota, in memory of their son, Charles Alfred Pillsbury, class of 1939. The Cross, suspended against the dossal hanging, is the gift of Mrs. C. Padgett Hodson of Boston, Massachusetts, in memory of her son, Henry Warder Carey, class of 1943. The Altar Candle I-Iolders are the gift of Mr. and Mrs. Gayle Aiken, Jr ., of New Orleans, Louisiana, in memory of their son, Gayle Aiken, 3d, class of 1941. The Pulpit Antependia and Bible Markers are the gift of Dr. and Mrs. Edward EI. I-Iurne of New York City, in memory of their son, the Reverend Theodore Carswell Hume, class of 1925. The Vases for Altar flowers are an earlier gift to the Church by Mrs. Edward Bliss Reed and the late Professor Reed oP New Haven, Connecticut, in memory of their son, William Thompson Reed, class of 1933.) 
2)REREDOS
2a) Left, top to bottom: The Seals of the Colleges–Berkeley, Branford, Calhoun, Davenport, and Timothy Dwight - -and LUX/ ET/ VERITAS (Translation: Light and Truth. Motto below Yale shield.)
Panel, carved into wood: IN MEMORIAMI GAYLE AIKEN, 3D 19411 HENRY WARDER CAREY, 19431 FREDERICK CUSI-IING CROSS, JR., 1940 / WILLIAM HILDRETH GILLESPIE, 1934 / BRADLEY GOODYEAR, JR., 1935 / FREDERICK BAGBY HALL, JR., 19341 THEODORE CARSWELL HUME, 19251 FRANK WALDER LILLEY, JR., 1943
2b) Right, top to bottom: The Seals of the Colleges–Jonathan Edwards, Pierson, Saybrook, Silliman, Trumbull Panel, carved into wood: 0 7 7 ("Urim and Thummirn:' probably names of sacred lots to be cast for the purpose of ascertaining the divine will [cf. Exodus 28: 30; I Samuel 14:40f; Ezra 2:63], the central part of the Yale shield.)
Panel, carved into wood: IN MEMORIAMI WILLARD DAVID LITT, 1.92 1.1 JOHN HELM MACLEAN, 19431 LUCIEN MEMMINGER, JR ., 19441 DAVID MCGREGOR MERSEREAU, 1940 1 WILLIAM WINSTON PETTUS, 19.3 3 / CHARLES ALFRED PILLSBURY, 1939 / BENJAMIN RUSH TOLAND, 1942 / WILLIAM GARDNER WHITE, 1942 
2a) 
     2b)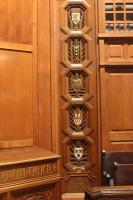 ---
SIDE-STALLS AND PRAYER DESKS
1) Left, west to east; carved above cushion-backs of stalls:
1a) IN MEMORIAMI FRANK WALDER LILLEY, JR.1 CLASS OF 1943 (Given by Mr. T. A. D. Jones of New Haven, Connecticut .)
2b) IN MEMORIAM / WILLIAM GARDNER WI-IITE/ CLASS OF 1942 (Given by Mr. and Mrs. Edwin White of St. Paul, Minnesota, in memory of their son.) 3) IN MEMORIAM/ BENJAMIN RUSH TOLAND/ CLASS OF 1942 (Given by Mr. and Mrs. Edward D. Toland of Concord, New Hampshire, in memory of their son.)
2) Right, west to east:
2a) IN MEMORLAMl WILLIAM WINSTON PETTUS~ CLASS OF 1933 (President's Stall given by President Emeritus and Mrs. James Rowland Angel1 and ten Trustees of the Yale-inChina Association. Inscription carved below seat cushion, front .)
2b) IN MEMORIAM/ DAVID MCGREGOR MERSEREAU/ CLASS OF 1940 (Given by Mr. and Mrs. Roland W. Mersereau of Portland, Oregon, in memory of their son. Inscription above cushion-back of stall .)
2c) IN MEMORIAM/ WILLIAM HILDRETH GILLESPIE/ CLASS OF 1934 (Given by The Kingsley Trust Association, New Haven, Connecticut, in memory of William Hildreth Gillespie, M.D ., class of 1934, and his comrades in the Association. Inscription above cushion-back of stall.) 
1)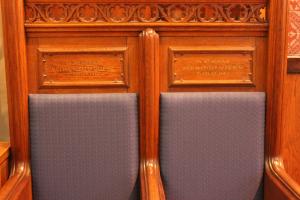 2)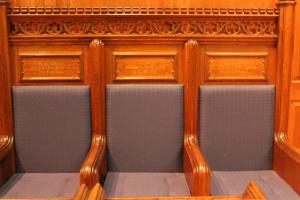 VESTIBULE-WEST WALL, south to north: 
3) Bronze on marble: IN LOVING MEMORY1 OF1 WILLIAM THURSTON GILBERT/ BORN JULY 6TH 18571 DIED JULY zND 19081 CLASS OF 1878
4) Metal, with stone border: BRAVE AND BELOVED. 1 IN/ LOVING MEMORY OF / THEODORE DE WITT CUYLER . 1 OF PHILADELPHIA. / A GRADUATE OF/ THE CLASS OF 1882.1 DIED JANUARY lST 1883.1 AETAT. 20.1 "MY PURPOSES ARE BROKEN OFF!' [Job 17: 111 In stone: ~AMES BROWN LORD, ARCHITECT
5) Bronze on stone: IN MEMORY OF/ THE HON. MAJOR GEN. JOHN PATERSON,/ 
3)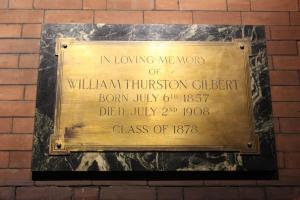 4)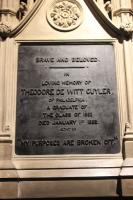 5)