Join us every Sunday at 10:30am. All are welcome!
Due to safety measures in response to COVID, UCY will be meeting for worship on Zoom. We wait with great anticipation for the day we will return to our beloved Battell Chapel. Until then, all are welcomet o join us for worship on Zoom. Email Pastor Ian Oliver (ian.oliver@yale.edu) or Associate Pastor Jenny Peek (jennifer.peek@yale.edu) for the Zoom link. 
UCY Community Gathering:
Following worship, all are welcome to stay on the Zoom call and join us for our weekly UCY Community Gathering. Students, alumni, staff, faculty, and community members will gather to get to know one another and pray together.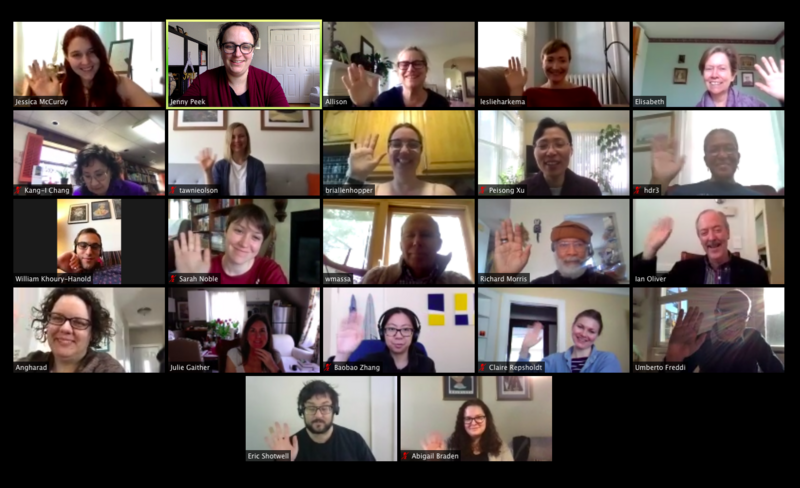 Worship at UCY:
Worship on Sundays at the University Church is warm, deep and diverse.  We sing a lot: in a "normal" service, we might sing "God of Grace and God of Glory" with choir and organ, an African Christian chorus with djembe and tambourines, a call-and-response Communion Setting in Spanish and English, and a classic American Gospel song with soloist and saxophone. Plus lots of sung responses!  Our Choir sits scattered through the congregation to make it easy to hear someone with a strong voice near you. Our worship service is divided into four movements: Gathering in God's Name, Proclaiming God's Word, Responding to God's Word and Going Forth to Serve.  Our pastors and guests from the Yale faculty and outside preach the Scriptures with a special focus on Christian life in an academic community.  We celebrate Holy Communion on the first, third, and fifth Sundays of the month.  Our spoken liturgy draws on the best of Christian liturgy across the denominations and the globe.  Originally created with the leadership of Siobhán Garrigan and Patrick Evans from the Yale Divinity School, our worship intentionally stretches us — musically, culturally, and spiritually.  
During this time of COVID 19, when we are not able to gather in our beloved Battell Chapel, we have moved worship online. Join us every Sunday as we worship together on Zoom.