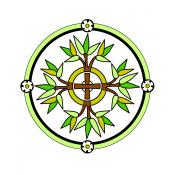 In 2005, following a study of Yale's religious life program by the University Council and leading university chaplains, Yale created a new, ecumenical (multi-denominational) church on campus, renaming it the University Church in Yale.  The goal was to respond to the great changes in the make-up of Yale's student body, and to make the Church more student-focused.  For many years, the campus church had been connected to the United Church of Christ in Connecticut, as well as part of Yale. A full history can be found here!
At the same time, a new liturgy for the Church was created by Siobhán Garrigan and Patrick Evans, faculty at the Yale Divinity School.  The new liturgy was creative, participatory, multi-denominational and international in its emphases.
The Church also became a teaching church for the Yale Divinity School and the Yale Institute of Sacred Music, bringing exciting young graduate students in ministry, choral conducting and organ to the church to lead worship, as well as to learn. Moreover, the Student Deacons group, who had been student leaders in the Church since the 1920's, was re-started as a diverse group of active undergraduate and graduate students.